Good morning Aidan,
Thanks for your interest in Clematis JOHN HOWELLS and of course I can write a little bit about the plant.
When John died I proposed to Ola to name a clematis after John. At the nursery we had a couple or so possible breedings ready for introduction from which I choose a Viticella Group plant as this was one of John's favourite Groups. I send Ola a picture of the plant and Ola and her sons and daughter agreed with the choice.
We applied for EU Plant Breeders Right under the name 'Zojohnhowells' as we try to apply, when there is no obstruction, under 'Zo......' names as these are the first 2 letters of the nursery name Zoest, J. van Zoest B.V.
From our nursery we did not had to many plants available for sale in autumn 2008 as most of our production went to the UK, to New Leaf Nursery, which is a wholesale nursery. New Leaf Nursery supplies UK retailers and I know that Thorncroft Clematis Nursery will put the plant up for show in 2009. Peter, when you are there, do you have some more information at this moment yet?
I hope Steve, BCS webmanager, does not mind to refer to our website address but that is
www.clematisinfo.nl
. You will find more information about the plant when you click on "Clematis" and then click on "introductions by Wim Snoeijer".
Personally I am so pleased about this introduction and about the name too. But more importantly, I hope that gardeners will like the plant too.
Best wishes from Holland,
Wim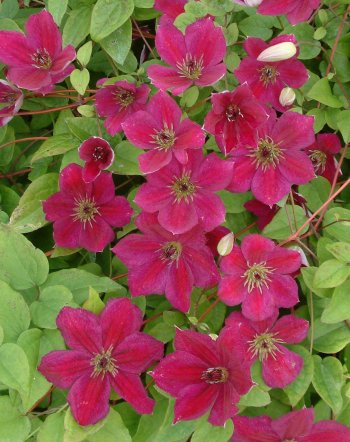 picture of Clematis JOHN HOWELLS