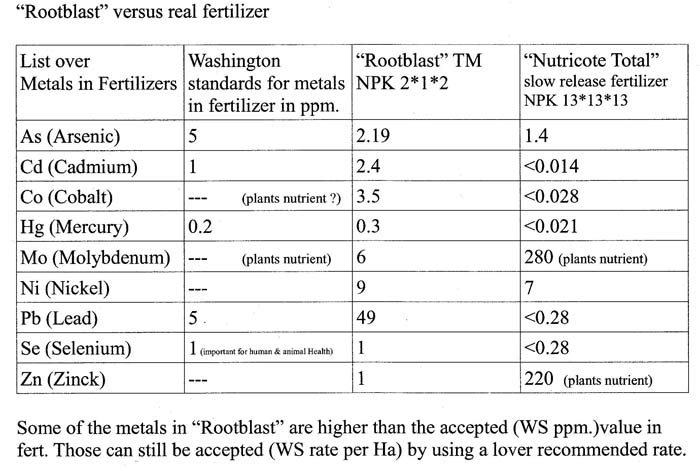 To me "Rootblast" seems to be a waste product sold as a fertilizer!
Price New Zealand
" Rootblast" = 340gram $19.95= Kg price of <>$60
Nutricote Total 270days 25Kg $180 = Kg price $7.20
Osmocote Total Shop Pack 1Kg $34.90
I did some comparison trials this summer and found no better growth with Rootblast than with Nutricote, trials was made by small plants and larger 2 years when potted up. The 2 years show some slowing down in growth after 2 months when using Rootblast compared to the Nutricote. On the small plants none of the once with Rootblast are larger than the one grown with Nutricote.
The difference on the pics in the Rootblast advertizing may be from plants grown without any fertilizer and Rootblast, not comparing fertilizer with Rootblast.
The advertizing Read "All Natural & Hormone Free" I have never encountered any hormone in any dry fertilizer.
In my opinion it is a waste of good money to use "Rootblast" and with the high levels of Lead, Mercury and Cadmium I would be worried using this in my vege garden.