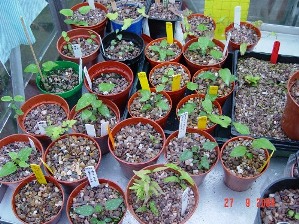 I can't stress enough how much potential pleasure and reward there is for anyone who gets interested in raising their own clematis from seed!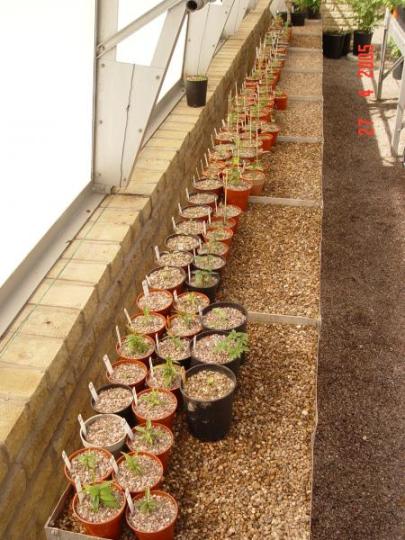 At the risk of being repetitive (!) I urge you to resolve to have a go in 2007 if you haven't already done so! You don't need any particular expertise, or a degree in botany, just a little patience and care. You can get seeds from a wide range of sources; for example, just log onto the main BCS website and take a look at the Seed Exchange information. The anticipation of the new flowers is marvellous!
Some of the well-known clematis text books are occasionally somewhat negative about raising from seed but don't pay ANY attention at all, just get on and get it started and don't be put off.
Once you've raised a few plants, you get much more confident, and before long you'll be trying YOUR OWN CROSSES. If you think the anticipation of seeing your own first flowers is big, well, with seed you have produced yourself, from your own crossings, the anticipation is twice over again!!
Today (yes, Christmas Eve!) I managed a couple of hours re-potting and got 20 seedlings done with freezing fingers before the daylight disappeared.

Seedlings Xmas Eve 2006, a few notes:
154C C. texensis. Germination June '06. Another one from Mike Brown's original plant, from the "remainder pot". Seedling has good buds already extended and looks typical.
171B C. texensis. Germination Feb '05. Seed from the States; seedling is very healthy and robust, long coiled roots, plenty of buds, looks good.
171D C. texensis. Seedling similar to 171B, a sister seedling from same germination batch.
177B Seedling of C. "Karen Diane" (large-flowered, white patens-like beautiful plant) crossed with clematis coactilis. Germination August '05. The instant I bared the root down I was excited. Beautiful fully-formed white large basal buds ready almost to begin elongation! A patens-like seedling but buds seem possibly somewhat non patens-like, being a slightly different form, size and bearing? That instils tremendous anticipation for the eventual flowers, which will almost certainly follow during the season. A hybrid of these two plants?... would be very interesting, it goes without saying. The form of the flowers-to-be?...but until the form of the plant really shows, it is easy to get it wrong, and it may be a patens seedling at the end of the day. Because sometimes one does occasionally get seed from a failed hybridisation, even after doing the cross with extreme care. There can be a grain or two of pollen left behind, if you are unlucky, when the anthers are removed, at outset. So the hybridisation from later-introduced pollen can fail, but you still get a few seeds. Impossible to say what the fact of the matter is until at least the form and foliage of the new plant - more than the very juvenile, are evident, and as the ultimate proof, the flowers. You have to be careful and not assume anything.
178 Seedling of "Suzy Mac" (large purple floriferous hybrid) crossed with C. integrifolia var latifolia. Germination August '05. The buds are massive, 3mm or 4mm in length, and the seedling looks fine and healthy, bursting with vigour, lovely gloriously symmetrical root system perfect to every tip! There is only one seedling from the batch, so far, although I still have hopeful faith in the "remainder pot". The root and forming-crown looks typical of a patens-like seedling and very strong. The possible outcome of the luxurious female parent with the bells of the second excites me as what the flowers could be like. Looks like it could just possibly flower in the coming season.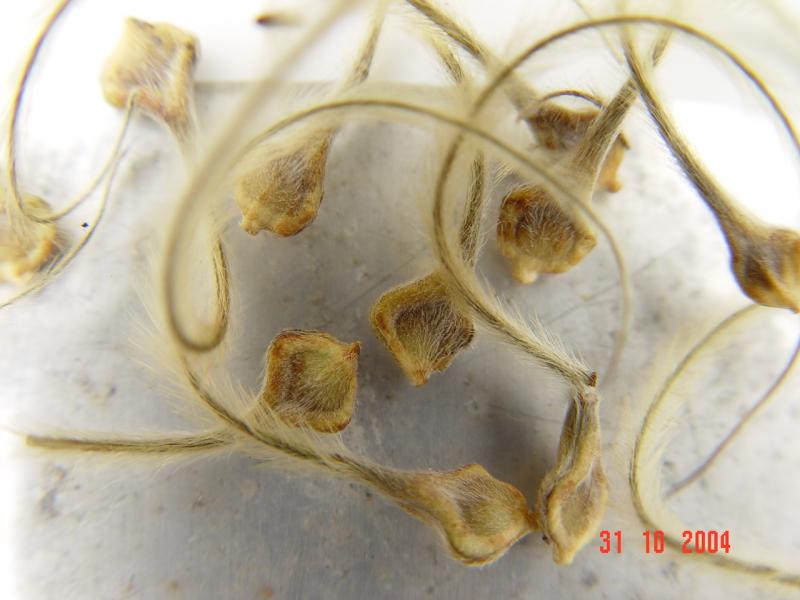 Seed of: Large-flowered hybrid x C. texensis
179C A seedling of my patens-like white lovely (Alabast-like) seedling "Karen Diane" crossed with my light-red texensis G55A: Germination August '05. The roots are perfect and the buds at the crown well formed and numerous. Looks terribly exciting as to the prospects of the possible eventual flowers. Looks like it could well be good enough to flower in the coming season. The imagination runs riot at the possible outcome of the combination, in the blooms, the female parent strong and very large-flowered, the male a perfect-form example of texensis with a light yellow-white interior.
179D Germination August '05. Exactly the same as for the sister, above, but with more buds and an even better root system.
181A Seedling of Clematis "Moira". Germination September '05. Very hopeful as to the possibilities with this one as the parent is unusual and very double. Parent plant produces a few flowers with occasional intact female parts so there is some seed formed from time to time in the 'house. Large buds, well formed, almost ready to go.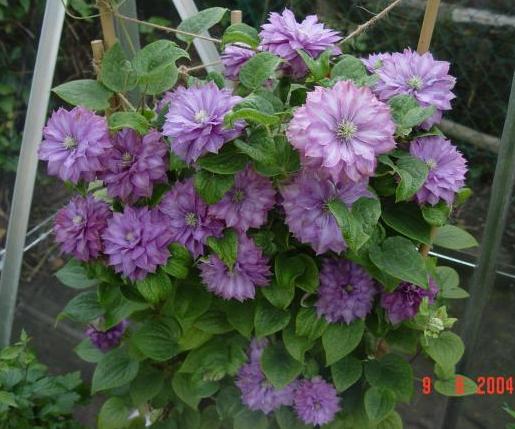 Moira
183B Another lovely texensis seedling, seed from the States. Germination September '05.
184A Glory of glories! My pink-striped lovely large-flowered hybrid crossed with one of my original texensis seedlings, (raised in 1996). If it were possible to capture the best of both parents, in one plant!!! Germination October '05.
186A Another cross of large-flowered hybrid with clematis texensis, only this time the female parent is a lovely large-flowered boat-shaped sepals lanuginous blue, with same texensis as seedling 184A. Germination November '05. The mind boggles as to the possibility of what the eventual flowers might be like. Possibly could flower in the coming season.
187B The second batch of the same parentage as batch 186. Root superb, full, thick, straw, healthy, looks maybe ok for possible first flowers 2007.
190A Wonder of wonders!!! Seedling of a lovely large-flowered pink-striped Large-flowered hybrid crossed with clematis campaniflora!!! The mind reels at the possibilities!! My God I am lucky! Germination December '05.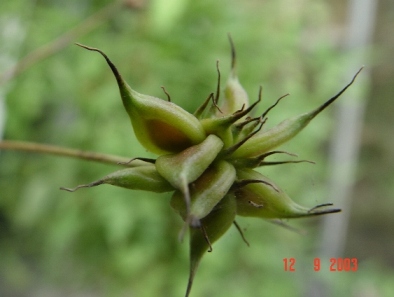 Almost-ready C. viticella 'alba luxurians' seed
190B Ditto as for 190A Incredibly exciting.
190C Ditto as for 190A and 190B Even more exciting still!!! Imagine having the luck to have 3 seedlings of this parentage, all at once! It must be Christmas!
195A Seedling of BETTY CORNING, seed sent to me by Suzy McMahon in the States. Germination March '06. Root looks really good, buds already formed, looks healthy and sound in constitution, no dwarfism, lovely root and crown, woody at the base of the stem and below. Can't wait to see the flowers, terribly exciting as there could even eventually be fragrance with the ? flower form.
195B Ditto above but root even better, absolutely studded, covered in juvenile buds, all around the woody stump and the crown. This will be a very, very vigorous plant.
197B another possible patens x coactilis. Germination March '06. Rapture!! Glorious large-white patens crossed (hopefully successfully) with miniature perfection coactilis. Root very strong, excellent; buds look patens-like.
197D Sister of above patens x coactilis. It is easy to get carried away and appearances can be deceptive, especially in small seedlings, but the new buds do resemble coactilis buds somewhat (as opposed to looking just like juvenile patens seedling buds) (honestly!) and I am terribly excited as to what could arise from this line.
197E Same as above for 197D.
If anyone is interested to see photos of seedlings proper, seedlings' roots and buds I can post some in due course. About another 60 seedlings still to pot up into 1 litre pots, starting after weekend, between Xmas and New Year.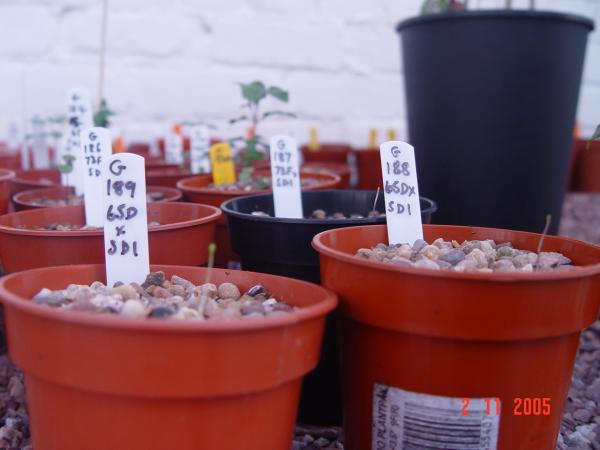 Edited by bcollingwood - 12 Feb 2007 at 9:36pm