I hestitate to write again in this BCS Forum with reference to my previous experience but I was motivated by someone to do so.
Following this Forum it is interesting to see how members reply on seedlings of which a picture of the first flower is shown. The reaction is usually very positive and very enthousiastic. This is of course a very good thing. But when a seedling, whether a chance seedling or a seedling from deleberate crossbreeding, produces its first flower a more important period starts.
Everybody involved in Clematis knows I am a Clematis breeder at J. van Zoest nursery in Holland. So, with this information I do not want to knock down the enthousiast replies on first flowers but to give a little bit of insight what is going on at the nursery.
When a new seedling flowers for the first time we directly select the plant. This means that the seedling is given a second year or that the plant is thrown away. We always keep in mind that a Clematis seedling might show different flowers in the second year of flowering.
When a seedling has passed this first selection we follow the plant another year and in that second or third year we decide whether to propagate or not. When the seedling is not propagated we might keep it for several reason or throw it away.
When we do propagate the seedling it will end up at the nursery when, again after 2 –3 years, we have enough material for 50 plants or so or more.
During this period at the nursery we check if the plant is easy to propagate, easy to grow on the nursery, easy to tie it up with tape along the 90 cm bamboo cane, disease resistance, etc. When after this nursery period the plants fails to meet our standard, the whole stock is thrown away. In that same period we will also plant one plant in the collection, which means full soil and in Boskoop we have peat soil. In the collection we can see how the plant grows as a normal garden plant. As this collection exsists of only clematis plants (400+) it means that plants are more susceptable to diseases compared with any garden. We also do not spray agains pests and diseases in the clematis collection. So, when a new selection survives in the collection, it sure should be okay for the garden.
The above period of time covers about 5-7 years. During that period we decide to introduce the selection. But sometimes we decide that the plant is still not good enough and that the whole stock is thrown away after all.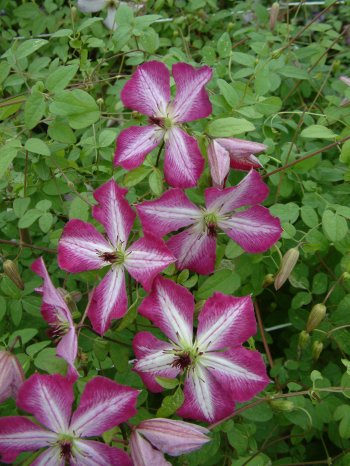 A nice example is of the Viticella Group selection shown on the picture of which we now have around 150 stockplants and many more stock as rooted cuttings. In September this year we decided that this selection did not meet our standards. The considerations were :

1 - A saleble plant (2 liter pot with 90cm bamboo cane) hardly flowers. This means that the plant has to be sold by its label. Today that is commercially not good enough anymore.

2 – The flat flowers are fully nodding. The few flowers on the saleble plant are seen from the side or above, the stunning inside colours are not visible unless the flower is turned by hand.

3 – Today Clematis trade is mainly in spring with plants being sold with flowers. Being a Viticella Group selection means that the plants will not be in flower for the spring trade.

4 – The plant in full soil in the collection died after 3 years. However we do not know the reason for that, it gives a clue that the plant might not be strong enough to survive for a considerable number of years in the garden.

Unless a miracle happens the whole stock of this selection will be thrown away this winter.

From the above information it should be clear that the picture is taken from arranged flowers.



-------------
Wim S